Elmed Medical, a company that sold seven mobile hospitals worth 47 million dollars to the country through Honduras Strategic Investment (Invest-H), falsified the records of SDI Global LLC, which manufactures this type of hospital and from which Elmed Medical had obtained price quotations but had never made a purchase.
ElPulso.Hn spoke exclusively with Michael Murphy, Chairman of the Board of SDI Global LLC, who has filed complaints in the United States and Turkey against Elmed Medical and its director and owner, Axel G. López.
«Mr. López presented documents to INVEST-H in Honduras with the papers from SDI Global LLC. Mr. López only changed the name and some other details,» alleges Murphy.
The data Lopez falsified are SDI Global LLC's registration numbers from the International Traffic in Arms Regulations (ITAR) in the United States and the Commercial and Governmental Entity Code (NCAGE) of the North Atlantic Treaty Organization. The falsification of this carries civil and criminal consequences, prosecuted by the US Department of Justice.
ElPulso.HN was able to verify that SDI Global LLC is officially registered with ITAR. The first registration number is K-6972, which accredits it as a broker or registered agent, and the second is M-40733, which authorizes it as an exporter. Both appear on its commercial publications, next to the NCAGE code TH633, as seen in the image.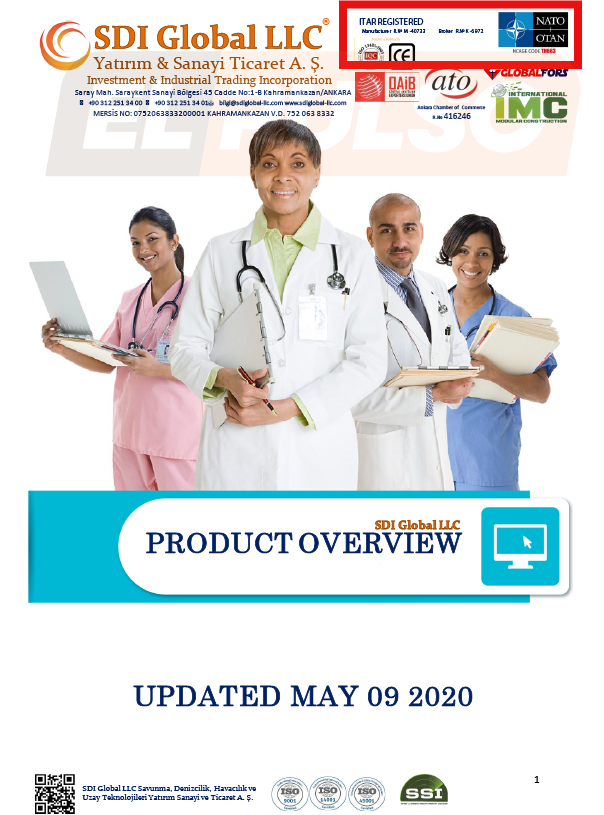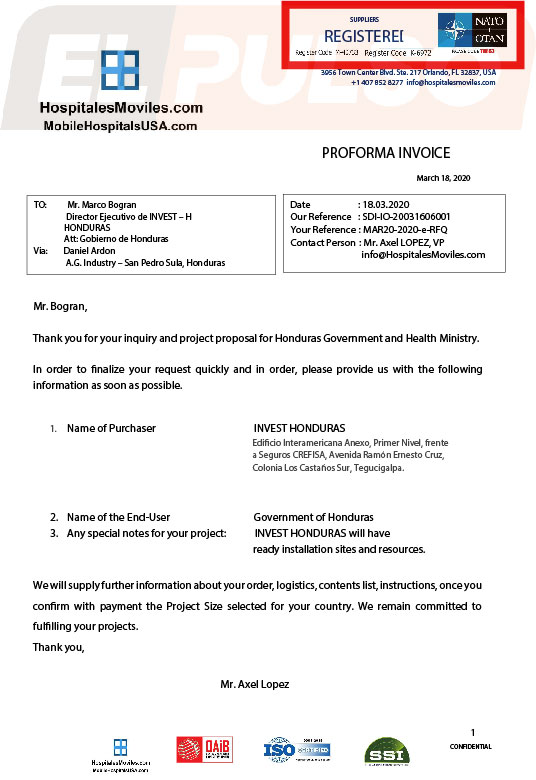 But in the purchase orders that López sent as director of Elmed Medical, the same numbers appear. ElPulso.Hn has obtained documents that accredit SDI Global LLC as the holder of these registration numbers, so López's use of them is a forgery.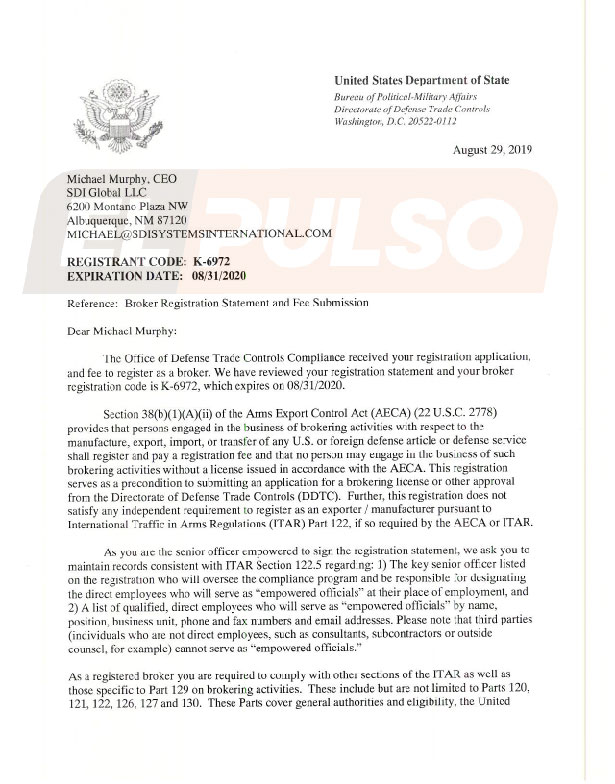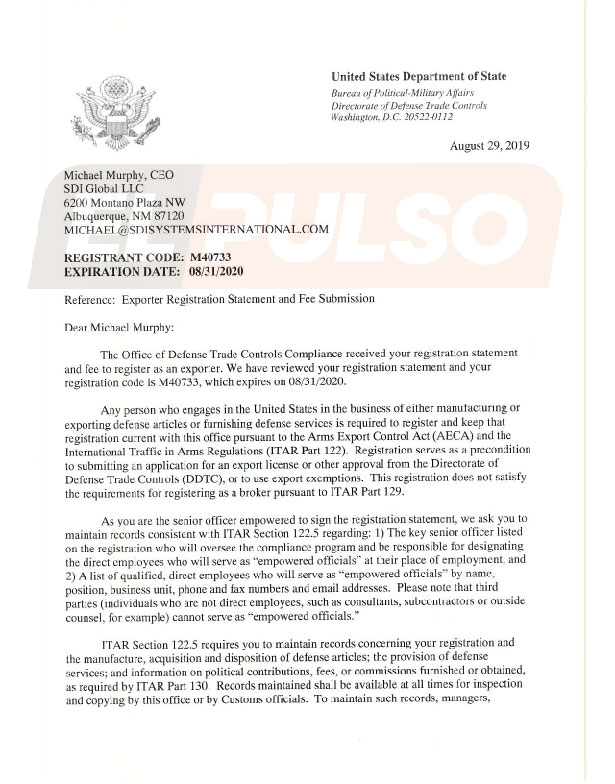 Murphy explains to ElPulso.Hn that "Axel López and his company ELMED Medical Systems Inc doing business as Mobile Hospitals.com and who knows what other companies that operated as a front with no physical locations of operation, only using facility addresses without commercial locations and various websites that he presented as his own companies, are a lie and a total fabrication."
He stated that "in march 2020, Mr. López contacted SDI Global to market mobile modular hospital products. Mr. López represented himself as a businessman with 20 years of experience and owner of several companies related to medical products and a wide range of market capabilities in Central and South America."
López maintained contacts with the manager of SDI LLC in Turkey, which provided him with price quotes and basic technical specifications. «On that date (in March), López was given the general characteristics of the hospitals, but he pressured SDI for more specific information, alleging that it was a buyer's requirement," although according to Murphy, López stole that information to build, or at least attempt to build hospitals.
Invest-H searched the Internet for mobile hospital providers to address the shortcomings of the Honduran health system in the Covid-19 crisis, and in this way found the provider www.hospitalesmovil.com, which is only a website of Elmed Medical, to which a payment of $47 million was made.
ElPulso.Hn conducted an exclusive interview with Marco Bográn, Director of Invest-H, on May 19, asking about the process of acquiring mobile hospitals. He was asked how certain they were that the manufacturer owned the factory in Turkey and Bográn replied that "they are based in Florida, in the city of Orlando, but they manufacture in various parts of the world, in this case in Turkey… it is not a broker, the factory is directly theirs and we have spoken directly with them, with the president of the company while he was in the factory in Turkey, informing us every three days of progress on construction."
Murphy states that "López does not have manufacturing facilities anywhere, neither in Turkey nor in the United States." He adds that the proof of this is that he had provided quotes for the hospitals to them.
Bográn was also asked if there was a contract to support the purchase and he replied that "the way the international market is working, both in hospital infrastructure and in biomedical supplies, is through purchase orders, so the contract is reflected in a purchase order that sets out the payment terms, warranty terms, specifications; and that is in the transparency portal in two purchase orders that include the seven hospitals."
Another detail to highlight is that 100 percent of the purchase was paid in advance, an action not typical in contracts between governments and companies, since an advance or a letter of credit issued by a bank is the usual practice.
In view of the doubts raised by this type of contracting, Bográn was asked what would happen if the supplier did not comply, and he only replied, "if they do not comply, they are sued, an arbitration action is filed… the criminal clause, even if it is not stipulated                in the contract or purchase order, always exists and one has the ability to sue a supplier who fails to comply and that would be done at international bodies."
The negotiation of the hospitals began at the beginning of March. The first public information about it was provided by President Juan Orlando Hernández himself, when at a press conference on March 11, Hernández announced in a national television address that the purchase of the mobile hospitals was being negotiated.
The purchase order and payment were sent on March 18 and according to the purchase order the delivery would be made after 15 working days or 21 calendar days. Bográn has provided at least four delivery dates: originally it was said that they would be in the country in early May; on April 21 he said in the second week of May; on May 5 it was changed and he said that they would arrive in the last weeks of June; and on June 9 it was changed again to the first or second week of July.
SDI Global LLC also accuses Lopez of corporate espionage and commercial espionage for copying their "literature, designs, proprietary drawings to be built by another manufacturer… using trade secrets and violation of United States law and a violation of international law under the Charter of the United Nations."
In Murphy's opinion, the hospitals will never arrive in the country and he believes that López defrauded Honduras, even if the hospitals are being manufactured in Turkey, he considers that they cannot be exported, since they have filed a complaint for violation of intellectual property rights and that would prevent them from being exported.
The Turkish Embassy in Guatemala issued a statement on April 21 stating that neither the Turkish Government nor any Turkish factory was making mobile hospitals for Honduras.
Adolfo Facussé, a Honduran businessman and Honorary consul of Turkey in Honduras, told ElPulso.hn how this happened "as it became known in Honduras that Invest-H was buying mobile hospitals in Turkey, the Turkish Embassy in Guatemala asked me about this and I told them that I had no details. They said they were going to find out because it gave the impression that it was the Turkish Government that they were buying from, but later they clarified that it was not the government and that they had no knowledge of any Turkish company selling them and the clarification came out."
Bográn later clarified that "in social media it was implied that the Government of Honduras is acquiring mobile hospitals from the Government of Turkey: that was never the case and it is not true. What is true is that we hired a US provider that manufactures its hospitals in Turkey, because its prices are lower than in the United States. The provider is 100 percent American and is based in Orlando, the city in Florida. We are in permanent contact with the supplier. Some [hospitals] will come in the month of May and others in June and finally others in July. We are definitely not buying hospitals from the Turkish government."
ElPulso.Hn has tried to reach Axel López for comment since mid-May, but he has not responded to our calls.